The 2021 Subaru Love Promise Community Commitment Award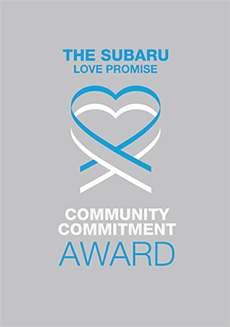 We've been nationally recognized for our dedication to our community and the Subaru Love Promise.
We're honored to receive the 2021 Subaru Love Promise Community Commitment Award. This award nationally recognizes Subaru retailers who are making the world a better place while demonstrating an outstanding commitment to supporting passions and causes in local communities. These efforts are focused in important areas such as the environment, community, health, education, and pets.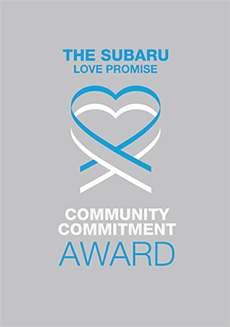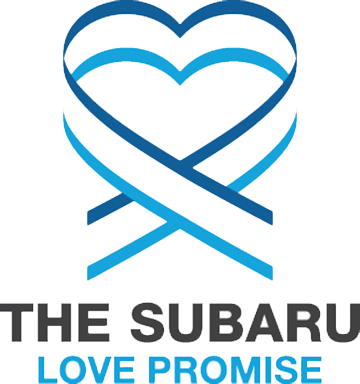 What is the Subaru Love Promise?
Subaru and our retailers believe in making the world a better place and the Subaru Love Promise is our vision of respecting all people. This is our commitment to show love and respect to our customers and to work to make a positive impact in the world.
How is Lithia Reno Subaru dedicated locally to the Love Promise?
Our Love Promise can be seen in various partnerships with local charities and non-profits. We're grateful for the opportunity, not only to be a part of our community, but to serve it as well.
Love Promise Stories from Lithia Reno Subaru
Subaru and Lithia Reno Subaru believe in making a positive impact on the communities in which we live and work. We uphold that belief through our Love Promise Community Commitment. Every month, we select inspiring stories from customers and partners from around our area who strive to support our collective commitment and feature them here
Lithia Reno Subaru Hosts Adoption Event - Laura V
Lithia Reno Subaru hosted an adoption event for the SPCA of Northern Nevada on June 5, 2021. They generously opened their hearts and showroom to homeless pets in need of a loving family, as well as sponsored all the adoption fees. Almost every pet at the event found a loving home, including Franny, a black Shar Pei who was the longest term resident at our adoption center. We always have great success in finding good homes for our pets at Lithia Reno Subaru adoption events, including seniors and uniquely abled pets. By hosting these adoption events, Lithia Reno Subaru gives pets an opportunity to meet more people in our community, make that special connection, and find the loving home that they deserve.
---
Lithia Reno Subaru teams up with Make a Wish - JJ B
Reno Subaru teams up with Make A Wish & the William N. Pennington Foundation. Love makes the world go around…And love… it's what makes Subaru, a Subaru. Reno Subaru loves our community and is committed to supporting organizations like Make A Wish and the William N. Pennington Foundation. Recently, Reno Subaru, Make A Wish and the William N. Pennington Foundation, granted a wish for a Make A Wish recipient who has battled cystic fibrosis her entire life. Her wish was to transform her 2002 Subaru Outback into her perfect car. Lithia Body and Paint took on the challenge through a grant by Make A Wish and the William N. Pennington Foundation to completely renew her Subaru by stripping it down and repainting it, then Lithia Reno Subaru was honored to be able to go above and beyond to also provide major repairs. By covering the cost of major vehicle repairs and maintenance, Reno Subaru wanted to make sure that her 2002 Outback was not only beautiful, but also safe and reliable. Some of work done by the award-winning service department at Reno Subaru included: Replaced head gaskets Valve cover gaskets Timing belt Water pump Fluid service Replaced fog light assembly…and more! Thank you to our valued customers who make it possible to be able to support and give back to our local community!
---
October's Adoption - Laura V
October is a very sweet puppy that was born while in foster care with us. This sweet dog was one in a litter of puppies in need of a good home. Lithia Reno Subaru gave our community the opportunity to meet with these puppies at an adoption event. At the event, this wonderful family saw October and knew he was perfect for them. They had been looking for a puppy for the kids to create memories with as they grew up. Thanks to Lithia Subaru, we expanded this wonderful family by one, and helped save a homeless pet.
---
Marshmallow Finds Home Thanks to Lithia Subaru - Laura V
Marshmallow was found wandering stray, alone and abandoned. Though a young and handsome, we knew it would take time to place him as large breed dog tend to have a harder time finding a home. Out friends at Lithia Reno Subaru opened their hearts and their location to host an adoption event to help our pets get adopted, especially harder to place pets like Marshmallow. They accommodated extra space for the event so that large pups like him could walk around and meet people. He was overlooked at first, until a couple stopped by to meet him. They had their mini-dachshund with them and, thanks to the outdoor setting of the event, we were able to conduct a meet and greet. Thanks to this event and partnership, we were able to find Marshmallow a loving home! We are beyond grateful to Lithia Reno Subaru for their passion for helping homeless pets in need find families!
---
Jaxon the senior dog - Laura V
Jaxon is a senior dog who arrived at our adoption center with a tumor on his side. He struggled with his anxiety having suddenly found himself displaced from everything he knew. He was desperate for stability and human affection. When Leah's friends saw that Jaxon was going to be at our Lithia Reno Subaru adoption event, they knew their friend Leah needed to go meet him. She had recently lost a senior dog that she missed dearly. They knew he was the perfect dog for her. We had LOTS of people lined up at our event, and in that long line stood Leah, ready to bring her little old man home that day. She patiently waited for Jaxon. And Jaxon for her. Until, finally, she could hold him in her arms. And Jaxon couldn't help but smile. He was going home. Thanks to our partnership with Lithia Reno Subaru, and their willingness to host these impactful adoption events, we were able to get a senior dog a home quickly!
---
Subaru kept me safe - Joelle K
I had purchased a 2019 Subaru Impreza ( my first Subaru) at the Lithia Reno dealership on June 16th 2019. The process was seamless and they put me into the vehicle I wanted. Fast Forward to February 21st 2020. Going back to work from lunch I was T-Boned on the drivers side by someone trying to "beat" traffic across an intersection. She hit me hard enough to push me into the car next to me, deploying the steering wheel and knee airbags. Starlink came on almost immediately. My car was totalled and while happy to have sustained minor injuries, I was devastated to lose that car. Two weeks later I was back at Lithia Reno Subaru telling my story. The staff bent over backwards to put me into a 2020 Impreza. That car kept me safe and I will forever be a Subaru owner.
---
Lithia Reno Subaru Goes Above and Beyond - Laura V
To say that Lithia Reno Subaru goes above and beyond for our organization and our community is an understatement. Their team is passionate about making a positive impact, and it shows in ways big and small. From the significant financial contribution they make to our organization every year, which enables us to save so many lives, to the way they treat our pets and volunteers, the Lithia Reno Subaru team is committed to making a meaningful difference in the world. Almost every Lithia Reno Subaru adoption event provides a magical moment for someone in our community. At one event, a dog that had been with us for an extended amount of time went on to become a loving service dog to a young boy with autism. In June of 2019, an anxious pit bull and a woman who claimed she was lonely beyond measure found love. Thanks to Lithia, those two are now training to bring joy to hospital patients. The list of stories goes on. We believe this is the reason why our staff and volunteers jump at the opportunity to participate at Lithia Reno Subaru adoption events. They have a reputation for bringing magic to our community, and it's something our team loves to be a part of. Thanks to Lithia Reno Subaru, so many pets have found loving homes, and so many people have discovered a new sense of meaning in their lives. We are grateful for their support, and look forward to bringing more magic to our community in 2020!
---
Truckee River clean up party - Christi C
Lithia Reno Subaru, Thank you sooo much for all of your help and support with the our community Truckee River clean up project!! Since 2004, KTMB has organized the Truckee River Cleanup Day where more than 800 volunteers come together to keep our Truckee River clean and pristine for all to enjoy. Cleanup and beautification project span from Verdi to Lockwood, and also include river tributaries. Projects include storm-drain stenciling, litter pickup, graffiti removal, in-the-river trash removal (by kayakers and flyfishers), weed pulling and park beautification projects.Thank you to everyone who made the 2019 Truckee River Cleanup a success!
---
Over 20 trees donated to Lazy 5 Regional Park - Sarah S
Washoe County Regional Parks & Open Space is thrilled to welcome a donation of 20 trees to Lazy 5 Regional Park in Sparks, thanks to Lithia Reno Subaru. On Tuesday, October 22, over 20 Lithia Reno Subaru employees came out to donate and plant 20 new shade trees along the park's soccer field perimeter. "We had a vision to create new picnic seating areas and plant shade trees along our soccer fields," says Park Ranger Sarah Snell. "Because there was nowhere for soccer spectators to sit or find shade. With many of the games taking place during the heat of summer, we really wanted to find a natural solution to providing shade even though we did not have a budget for such a project. It was truly a blessing and helped us make our vision a reality". The Washoe County Park Rangers and Lithia Reno Subaru worked with high desert garden and landscape experts at Moana Nursery to determine the best trees that would provide good shade and also do well in native soil and Northern Nevada's harsh climate. The group narrowed down their selection to maples, ashes, lindens, and willows, which were all planted in one hard-working day, thanks to all the Lithia Reno Subaru employees coming out during their work day to volunteer. These newly-planted varieties of trees not only gives the park more shaded seating areas, but also enhances it with beauty and vibrant colors (especially in the spring and fall), additional bird habitat, and contributes to cleaner air for the ever-growing Reno-Sparks metropolitan area.
---
Feeding Families with Help from Subaru - Jonathan B
This upcoming Holiday Season will mark "Feeding Families" time at Catholic Charities of Northern Nevada. During the next couple of months, Catholic Charities will feed 7500 families with our holiday bags and either hams, chickens or turkeys totaling over 250,000 pounds of food. The preparation for this very large event has been ongoing and takes dozens of volunteers and hundreds of volunteer hours. The Subaru Outback we received from Lithia Subaru and Meals on Wheels America has played an important part in transporting supplies and food for us in order to put our 7500 bags together. The large rear capacity has allowed us to pack in many items without having to make too many trips. Good gas mileage never hurts either. Our drivers always comment on how nice the Outback drives and how much room it has to haul supplies in the back. Parked outside our facility, the Subaru is visible to all the folks who come to donate items and volunteer for this great event. A special thank you to Meals on Wheels America and Subaru of America!
---