Sorry, no items matching your request were found.
Reset Search
Price does not include $449 Dealer doc fee, taxes and license fees.

Subaru Legacy
Exterior Features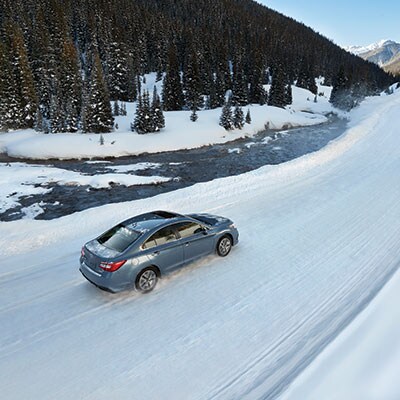 Driving with Symmetrical All-Wheel Drive
All Subaru Legacy models are equipped with Symmetrical All-Wheel Drive to help you maintain the best possible traction while you are driving. This includes when it's raining or snowing, and when you are cornering. By redirecting the power to the tires that are maintaining their hold on the road, you will have the lowest chance of slipping.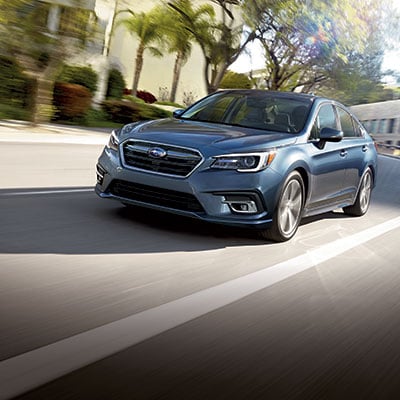 Choose From a Variety of Active Safety Features
Subaru wanted to make sure you would always be safe while you are behind the wheel, which is why they have nine optional driver assistance features that you can choose from. These features include options to give you the best visibility like Automatic High Beams, Blind-Spot Monitor, and Rear Cross-Traffic Alert, as well as features to ensure you are staying where you should on the road with Lane-Keep Assist, Lane Departure Warning, and Adaptive Cruise Control.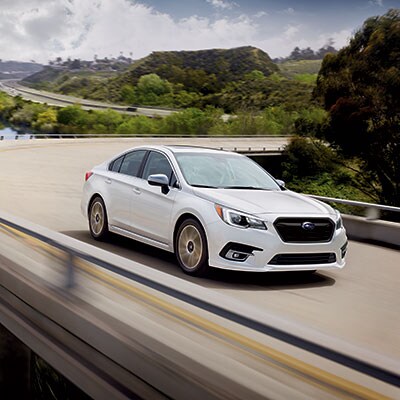 Highest Rated for Safety
The National Highway Traffic Safety Administration (NHTSA) rates cars, trucks, and SUVs out of five stars based on how well they perform in crash tests, and the 2018 Subaru Legacy earned a top-of-the-line five-star rating. Even the Insurance Institute for Highway Safety (IIHS) rewarded the Legacy with the Top Safety Pick+ distinction, putting it in the highest tier of safety. You can drive confidently when you choose the Legacy knowing it will keep you and your family as safe as possible.

Subaru Legacy
Interior Features
All the Space You Could Need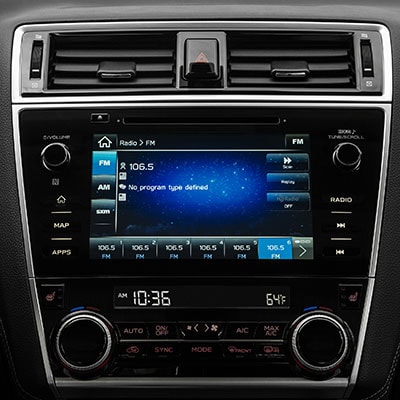 The Legacy stays at the standard for its class, offering 15 cubic feet of cargo space in its trunk. This means you will be able to fit six carry-on pieces of luggage into it. If this isn't enough for you, you can fold the rear row down thanks to its split-folding bench, letting you keep the seats that you might need while still getting the space for oversized gear.
Apple CarPlay and Android Auto as Standard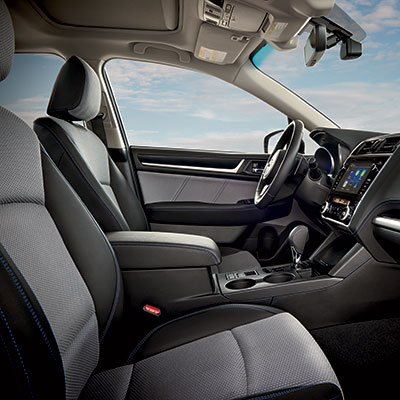 Even when you get the 6.5-inch touchscreen that comes standard, the 2018 Legacy is compatible with Android Auto and Apple CarPlay. These systems allow you to easily connect your smartphone to manage phone calls, messaging, audio, and navigation through the vehicle's infotainment system. You can upgrade to an eight-inch screen that also includes navigation, real-time traffic, and real-time weather among other features.
Get a Better Deal on the New Subaru Legacy Car You're Interested In
For many drivers on the roads of Lemmon Valley and Sparks, mid-sized is the best size when it comes to a new sedan. Small enough to be efficient but big enough to be comfortable, they represent a happy medium that many people love.
The Subaru Legacy? It just happens to hold acclaim as one of the most valuable mid-sized cars on the modern road. And its value only improves when you pair its rich suite of features with an affordable finance deal.
A Winning Level of Performance Paired with Great Features
Quiet and comfortable on the inside and powerful under the hood, the Subaru Legacy is a stand out among its peers, and in more ways than one.
It offers two rock-solid engine options: a 182 horsepower 2.5-liter flat-4 and a 260 horsepower 2.4-liter turbocharged flat-4. When you combine these with standard all-wheel-drive, you get the benefits of a smooth ride that provides the peace of mind you need when the roads get tough.
It doesn't hurt, of course, that its five-seat interior can come packed full of useful and coveted features. From automatic climate control to adaptive cruise control, there's a wealth of options aimed at comfort, safety, and more.
Save on the Subaru Legacy You Want with a New Car Lease Special
When you shop for a new Subaru Legacy in Reno, NV, you'll find our dealership waiting to help. Our finance center routinely offers loan and lease specials that can send you home in a great car for less. With the help of our lending partners, we can connect you to affordable financing tailored to meet the needs of your budget.
Apply for Financing at Lithia Reno Subaru
Are you curious about the sort of Subaru Legacy offers you might qualify for? Fill out our online finance application today and get the ball rolling. We've helped countless Sun Valley drivers enjoy the benefits of a new Subaru, as well as expert Subaru service. We'd love the chance to do the same thing for you.